Overview
This guide was made for those who (like me) love to start the NV playruns with lots of money, stuff and resources… NOT CHEATING with the console/mods or whatever… At level 1, you can make enough money in a legit way to buy all the implants, to buy some absurdly OP weapons for level 1 like the famous Anti-Materiel Rifle or Paciencia,to buy some of that super-expensive, but amazing "non-lootable" ammo,to get the best armor set (Mark-2) in the base game,… and to buy whatever you want! Of course, the Casinos are a compatible option to get some extra money fast too, but we will need much more caps to be really well prepared… O_OThese places follow these rules:- Not a single shot needed to reach and to loot the place. – No need to kill anyone or to suffer any damage.- No faction hate taken. Of course, to steal "owned" stuff, we must be hidden.- Zero lockpicking skills needed. – Zero hacking skills needed.- No special requirments needed, like spellchecks or fame.- Not any quest/s required to access to the loot.- Everything must be "taken" easily, at level 1, even playing in Very Hard/Hardcore mode.note: Numbers are rounded.Items with weight/value ratio worse than 1/5 are not taken.Items with value less than 10 are not taken. Exceptions: ammo and duc tape.
TOP 5 – Camp Golf – 15.000 caps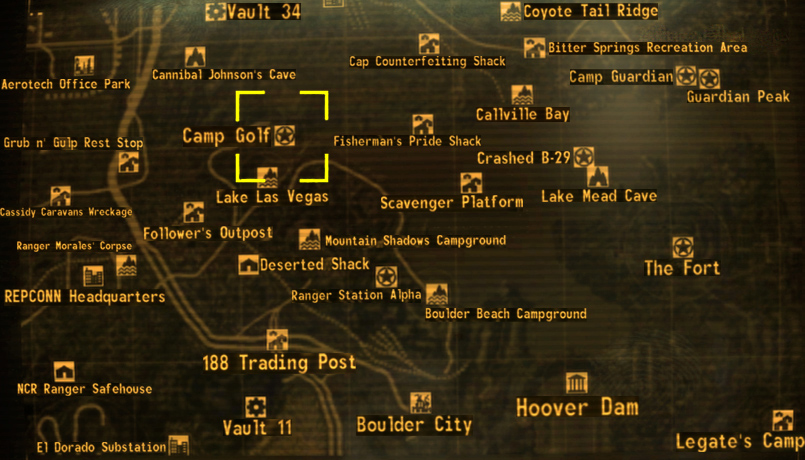 HOW TO GO ASAP?
12 minutes from Goodsprings:
Goodsprings > Novac (this way) > 188 Trading Post > GG Rest Stop > turn right following (or walking on) the big pipe to the end > Camp Golf
NOTORIOUS ITEMS
Combat Armor + Helmet in good condition. 5.700 caps value.
3 Mentats
3 Fixer
5 Nuka Cola Quarz
+20 Purified water bottles.
A lot of energy weapons ammo.
Many magazines.
NOTES
5.000 caps of value among the 13 tents.
10.000 caps of value in the main building.
wikilink:
[link]
TOP 4 – Camp McCarran – 18.000 caps
HOW TO GO ASAP?
12 minutes from Goodsprings:
Goodsprings > Novac (this way) > 188 Trading Post > GG Rest Stop > Arotech OP > Camp McCarran
NOTORIOUS ITEMS
Sniper Rifle in decent condition on a bed, in a tent.
Many magazines.
Lots of average ammo.
NOTES
Most extense single location in New Vegas.
Camp McCarran shows like one location but it has six relevant spaces: the tents, the Concourse, the terminal building, the Contrera's Shack, the airport, the ferry.
Loot apart, two cool unique weapons can be taken here easily in a peacefully way. Check the wikilink for extra info.
wikilink:
[link]
TOP 3 – Freeside – 25.000 caps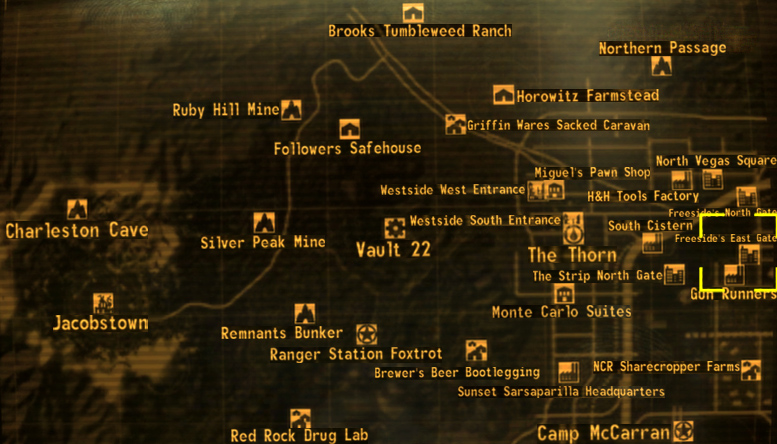 HOW TO GO ASAP?
15 minutes from Goodsprings:
Goodsprings > Novac (this way) > 188 Trading Post > GG Rest Stop > East Pump > Freeside East Gate
NOTORIOUS ITEMS
Energy weapons and ammo (20.000 caps) at the Silver Rush.
Snowglobe (2.000 caps) at the Old Mormon's Fort.
Barter Skill Book + some loot at Cerulean Electronics.
Naughty Nightwear (Luck +1) + some loot (upstairs) at Mick & Ralphs.
Average loot and some interesting bonus clothes all over the place.
NOTES
Safest way to steal the stuff at the Silver Rush is to move things to the toilet to take them there.
A key can be pickpocketed from Gloria/Jean-Baptiste to access the house and some more stuff.
The best weapon at the Silver Rush is a Tri Beam Laser Rifle. it's in poor condition, but with 2/3 weapon repair kits it will be ok, being a totally OP energy weapon for a level 1 character.
Rats in Cerulean Electronics can be easily "jailed". No need to fight them.
wikilink:
[link]
TOP 2 – Hidden Valley – 30.000 caps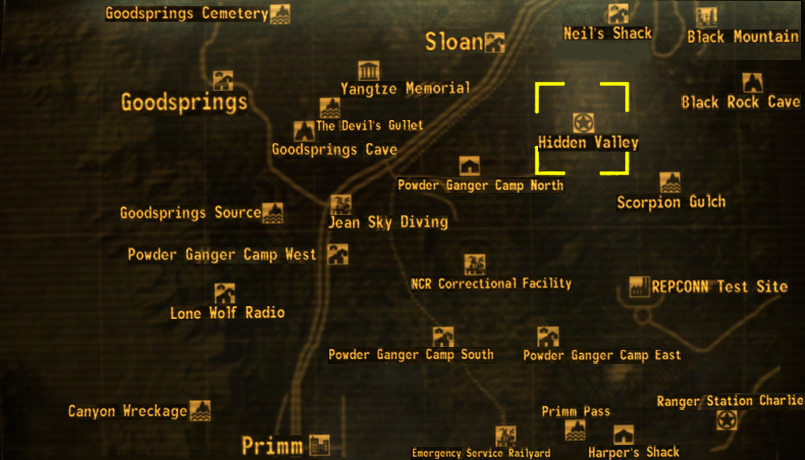 HOW TO GO ASAP?
5 minutes from Goodsprings:
Goodsprings > Jean Sky Diving > Sloan > Hidden Valley
NOTORIOUS ITEMS
Four sets of power-armors at very good condition in the armory. (20.000 caps)
Super Sledge in decent condition (3.000 caps) in one of the scribes cells in L2.
Lots of ammo, mostly for energy weapons.
Energy Weapons Skill Book, in the doctor's room.
NOTES
The armory sometimes is open sometimes is closed. In the last case, the key needs to be pickpocketed from Knight Torres.
That Super Sledge, at level 1, is a totally op weapon for melee builds.
EXTRA.
How to enter in the Hidden Valley Bunker at level 1.
There are four bunkers in Hidden Valley.
Only one of them gives access to the BoS base, the Hidden Valley Bunker.
There are different forms to enter in this bunker, but the best one (specially at level 1) is to use Veronica to get access:
1. Recruit Veronica as companion at the 188 Trading Post.
2. Make to trigger the Vero's Companion Quest: "I could make you care".
3. For this, go you and Veronica together to three places of the nine possible places. Check the wikilink for extra details.
I usually choose Nellis, McCarran and Freeside, as I use to visit those places at level 1.
Vero will say something in every location, opening new dialog options… and finally, you both will be able to enter together in the bunker.
4. Enter the bunker with Vero and wait.
5. You will be accepted in the Bunker for ever with no penlties/humiliation at all. This would be very different using other methods to enter.
6. Now, you can ship Vero back to her kiosk at the 188's. She is not needed anymore.
wikilink:
[link]
TOP 1 – Nellis Base and Hangars – 80.000 caps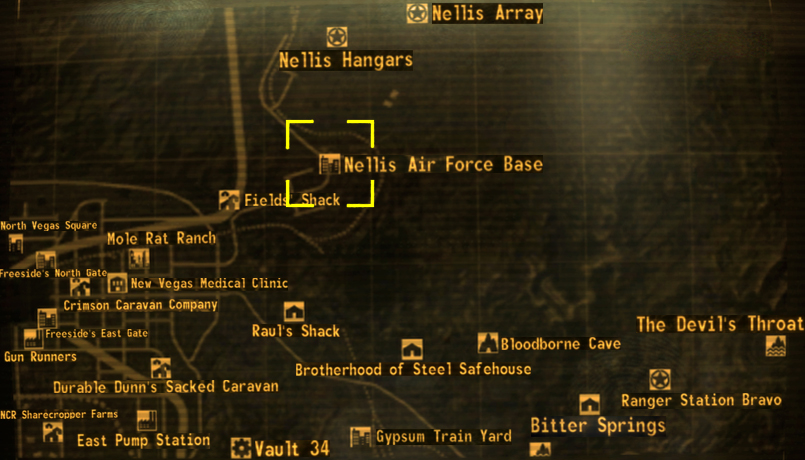 HOW TO GO ASAP?
18 minutes from Goodsprings:
Goodsprings > Novac (this way) > 188 Trading Post > GG Rest Stop > East Pump > NV Medical Clinic > Harper's Shack > Nellis Air Force Base*
STRUCTURE
For easy comprehension in the vast Boomer's are there are four relevant looting spots:
– Barracks (five)
– Houses (five)
– The hangar with the plane.
– The hangar with the armory.
NOTORIOUS ITEMS
14 Combat Armors + Helmets in the barracks, in the loyal's house, and in the hangars. (40.000 caps).
Snowglobe in the museum house (2.000 caps)
2 Servo-Armors + energy weapons in the corpses of two BoS paladins, in the ruined houses in front of the entrance. (4.000 caps)
3 Missile launchers in the armory. (8.000)
5 Grenade Launchers/Rifles in the Armory. (6.000)
+100 Missiles. All over the place. (+5.000)
Many mines and grenades in the armory.
One Mini-Nuke (armory)
Skill Books of Explosives (in Pearl's barrack) and Repair (in the loyal's house).
All kinds of average loot, here and there…
NOTES
Be careful here… if these guys catch you, they will immediatly become hostile and will fight you en masse.
More "not so easy to loot" stuff is present there. Many Boomers hold valuable stuff like Missile Launchers, Grenade Launchers, Mini-Nukes… also one Fatman. Most of these are obtainable with more or less grade of difficulty.
EXTRA
To pass the Boomer's bombardment for me.
0. Avoid or ignore the guy offering info for caps as you arrive. It's useless. He can be killed with no karma penalty. He has a cool hat (+5 barter) and some caps to loot.
1. Wear no clothes or AGI+1 clothes. Armor is useless here (at VH at least) because if you are hit, you die anyway, with or without armor.
2. Carry low weight and switch to First Person View*.
3. Totally unequip any weapon.
4. Remove your fists.
5. Save the game here… just in case.
6. As soon the missile music starts get pasted to the rocks at the left.
7. Run and jump, run and jump… continue glued to the rocks… nonstop…
8. Eventually you will reach the metal fence.
wikilink:
[link]
TRADERS, LOCATIONS IN NEW VEGAS
GOODSPRINGS AREA SELLERS
Very early-game traders:
– Goodsprings, Chet, the dude at General Store. Trudy, the Saloon owner, but she has little money to buy our junk.
– Primm, Nash, The oldest man around.
– NCR Correctional. The dude at cell B. You need to pay 100 caps to enter,np, but the loot there has much more value.
– Mojave Outpost. The ugly girl at the bar.
EAST/NORTHEAST SELLERS
For later, most of the NV solid sellers are in the E/NE area. It's easy to make a tour:
– 188 TP. The NCR's lady soldier (up) and Alexander (down).
– Novac. Cliff, the guy at Dino-Shop. Talk first to the old lady at the hotel, to get a discount.
– Gun Runners. Best seller in NV.
– Crimson Caravan. Blake, the guy at the kiosk.
– Freeside. Mick and Ralph. Ask for the special stock. SIlver Rush, too, energy stuff only.
– Camp McCarran. Contreras dude. Take care, he sucks…
CONDITIONAL SELLERS
– Hoover Dam. Brandon, an idiot at the basement. NCR fame / 50 speech, required.
– Red Rock Canyon, basement of ruined building. Great Khan Armorer. GKs fame needed.
RANDON TRAVELLING MERCHANTS
They use to be randomly found in the main roads and in some locations like
Mojave Outpost.
188 TP.
Crimson Caravan gates.
Boulder City.
Novac.
ABOUT THE AUTHOR
I've played Fallout games for thousands of hours, most of them focusing on:
– shortcuts
– loot
– optimal builds.
– ways to start the playruns overpowered.
My guides are personal and original. All we already know the wiki, youtube…
I make a guide only when I feel I have something new/useful to share.
Play in VH/Hardcore, 100% legit, zero cheats/console/mods.
Feel free to ask me anything in the guide comments. i check often. (no peronal IMs, pls)