Overview
Hi, I noticed when I first time playing, using keyboard sucks as hell (in my opinion). But then, I tried to customize it and I got some recommendations for you.Please notice this (my primary intention of this guide) :I hope this guide can help and inspire you to customize your OWN keyboard keys (or any other methods, such as: using mouse or maybe contoller) to suit your castle-crashing needs. I do NOT , I repeat, FORCE you to use it what I use, I simply RECOMMEND and INSPIRE you to find your own! :)What I did was to switch the WASD key function with the arrow (up,down,left,right) . So the ARROW keys are for attack (because in XBOX controller, attacks/function keys are on the right, and movement is on the left.) and I use WASD to move my characters (just like in FPS games).Remember to rate, comment and favorite this so other beginners can see!Check below for more detail!
The Settings
Here is the setting/key bindings I currently use: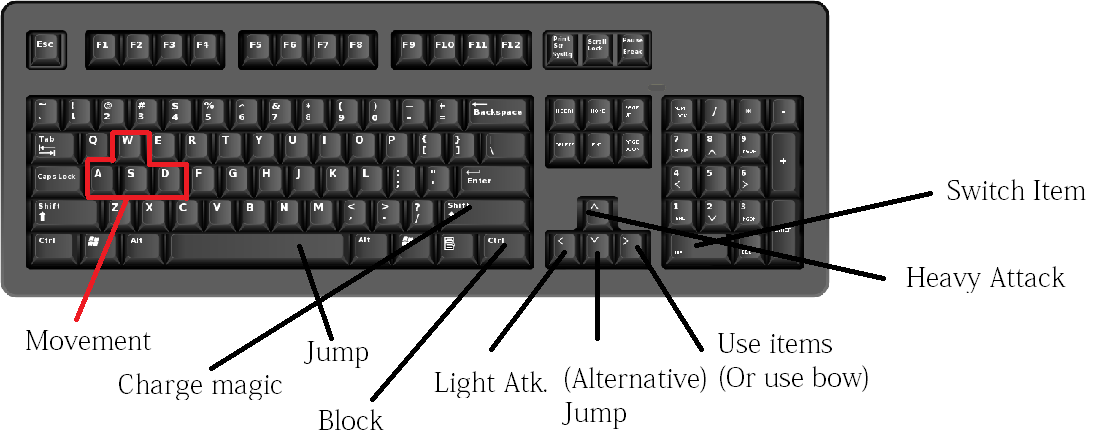 How to change settings:
Main menu -> Help and Options -> Settings -> Keyboard Settings
Character Movement
Move up – Set to W
Move left – Set to A
Move down – Set to S
Move right – set to D
Character Actions
Light Attack – set to LEFT Arrow
Heavy Attack – set to UP ARROW
Bow/Use item – set to RIGHT Arrow
Jump – set to Space button, or you can use DOWN arrow button
Block – default to CONTROL (Next to left arrow key)
Magic – default to SHIFT
And for the switch item I used the 0 button on 8 Number keypad (if you have)
Conclusion
Remember, all these are recommendations and the set of hotkeys I use.
You can use the 8 number keypad as the action (attacks, use, magic, etc). The point is that the keyboard key movement is on the left (just like xbox controller) and the action/attack keys are on the right side of your hand (especially for right handed people).
If you have any other easier method to use castle crasher using keyboard and not XBOX controller for PC, put that in the comment, I will put that in my guide and list your name!
NOTE
There are some other kind and creative players that put their preferred control keys in the comment section. See them, and they will help you play this game in your very own way.
Please rate up and add this as your favorite! Cheers!