Overview
A collection of all the best perks that work really well in Hardcore mode when it comes to surviving.
Logans Loophole (Trait)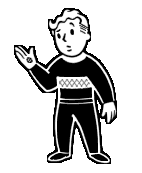 NEEDS OLD WORLD BLUES DLC
Chems last twice as long and removes the possibility to become addicted, but the character's level will be capped at 30. In Hardcore mode, all positive effects (including foods, medicines, chems…) are also affected by this perk. This effectively doubles the healing that food does making it great for hardcore.
Hoarder (Trait)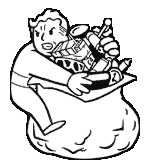 NEEDS OLD WORLD BLUES DLC
You gain +25 lbs. to your carrying capacity, but suffer a -1 to all attributes any time the weight you're carrying drops below 160 lbs. This trait works a lot better in hardcore mode as ammunition has weight making it much easier to get above the weight threshold.
Another fun effect with this perk is when combined with a Strength of 10, Strong Back, the NCR Courier duster and this trait you can achieve a carrying weight of 400 pounds,
Old World Gourmet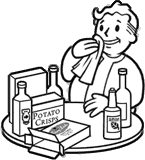 REQ: Endurance 6
Survival 45
NEEDS DEAD MONEY DLC
The perk increases the amount of health given by the various types of so-called "Snack Food" by 50%. Pretty good in hardcore mode since you are more likely to eat "snack foods". This also gives you more health from alchohol which can also be useful when you have to drink them.
Them's good eating

REQ: Level 20
Survival 55
NEEDS OLD WORLD BLUES DLC
All living creatures killed by the Courier have a 50% chance of having thin red paste or blood sausage on them. These food items are great for healing and eating.
Home on the Range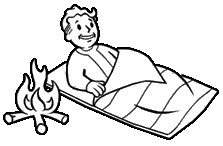 REQ: Level 8
Survival 70
NEEDS HONEST HEARTS DLC
Whenever the user interacts with a campfire, they have the option of sleeping, with all the benefits that sleep brings. This can be usefull as it effectivley adds more beds to the games and they are added near campfires which are quite common.
Tribal Wisdom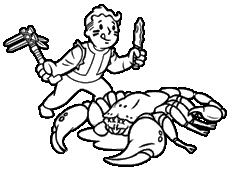 REQ: Level: 8
Survival 70
NEEDS HONEST HEARTS DLC
50% less limb damage from Animals, Mutated Animals, and Mutated Insects, +25% Poison Resistance, and the ability to eat mutated insects in Sneak mode through the option: This most importantly lets you eat dead insect corpses. This can be great for reducing hunger.
Irradiated Beauty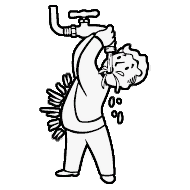 REQ: Level 22
Endurace 8
NEEDS LONESOME ROAD DLC
Any time you sleep, you remove all of your Rads in addition to regaining all of your health. In hardcore mode, you still don't regain Health, but you lose 100 Rads.
Roughin It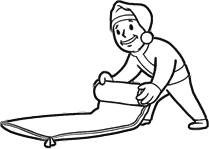 REQ: Level 22
Survival 100
NEEDS LONESOME ROAD DLC
You're more at home under the open stars than under a roof. Any time you sleep outside, you gain the benefits of being Well Rested, even if you don't own the bed. Can be helpfull as at times it can be hard to find an indoor bed. Works well with home of the range.
Lead Belly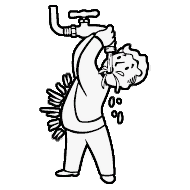 REQ: Level 6
Endurance 5 OR Survival 40
With the Lead Belly perk, 50% less radiation is taken every time you drink from an irradiated water source this benefit extends to all irradiated food and drink.
Chemist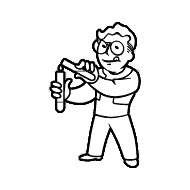 REQ: Level 14
Medicine: 60
In Hardcore mode similar to logan's loophole, all positive effects (including foods, medicines, chems…) are also affected by this perk. This effectively doubles the healing that food does making it great for hardcore.
Pack Rat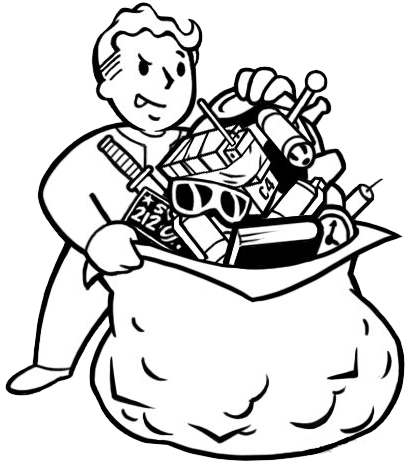 REQ: Level 8
Intelligence 5
Barter 70
Items with a weight of 2 or less weigh half as much. Hardcore mode applies weight to ammunition, which could cause this perk to be especially useful, allowing you to carry twice as much ammunition at the same weight. This works really well with builds that use ammo.
Cannibal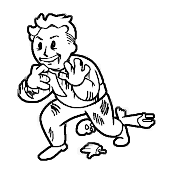 REQ: Level 4
Regain health by feasting on corpses, you lose karma each time you do this. With this perk hunger doesn't become a problem as long as you keep killing humans. Works really well as you don't have to carry around food.
Ghastly Scavenger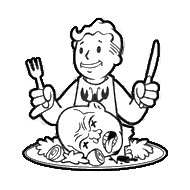 REQ: Level 12
Cannibal Perk
With Ghastly Scavenger you gain the option to eat a super mutant or feral ghoul corpse to regain health. This is essentially another rank of cannibal except you get twice as much health from eating super mutants and ghouls. Great for reducing hunger.
Thank you for reading