Overview
Some character builds I'd like to share.
Introduction
"It's a game, and games have winners and losers."
– Benny
This guide describes some character build's that I have come up with. Some of them were made with Hardcore mode in mind, but it isn't mandatory at all. Many of these builds can also work with the JSawyer mod [fallout.gamepedia.com] but may or may not require a few tweaks. All DLC is required for these builds. Don't read this guide if you haven't played the game yet, as it contains spoilers and is more for experienced players anyway. If you have any concerns or questions, leave them in the comments. This guide is kind of a WIP so I'll be adding mire builds over time.
The Western Survivor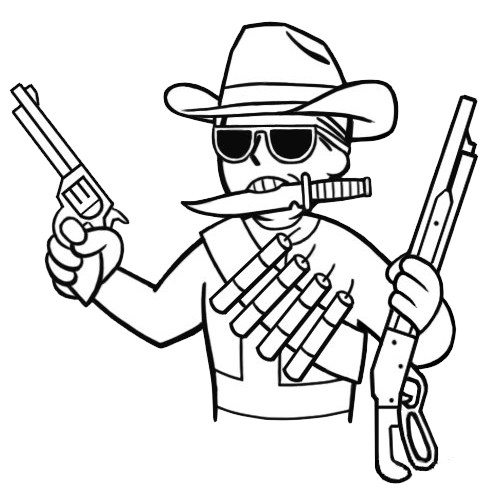 "Listen, warrior, there are two kinds of folks. You load your gun like an ordinary man, or you load it like a devil."
– Jules
Backstory
The Western Survivor grew up on a Brahmin ranch deep in the frontier of the Texas wasteland, far away from any NCR. However, their simple life was cut short as a teenager when their ranch was attacked by raiders and his parents were murdered and their home was robbed and burned down. After they escaped, The Western Survivor roamed the Wastes for the rest of their life, never really settling down in any one spot. The only way they could really earn caps is by taking jobs as a bounty hunter, caravan guard, or any other odd jobs he could find while drifting from town to town. They kept roaming and surviving in the vast open wastelands until they took a certain courier job in Primm, and the rest is history.
Attributes
Strength – 6
Perception – 6
Endurance – 6
Charisma – 2
Intelligence – 5
Agility – 8
Luck – 7
Tag Skills
Traits
Built to Destroy
Claustrophobia
Perks
Rapid Reload
Educated
Gunslinger (if you want to main one-handed weapons) or Commando (if you want to main two-handed weapons)
Cowboy
Quick Draw
Hunter
Them's Good Eatin
Home on the Range
Intense Training (Luck)
Finesse
Better Criticals
Action Boy/Girl
Demolitions Expert
Walker Instinct
Grim Reapers Sprint
Main Quest, Roleplaying, etc.
The Western Survivor is your good ol' rootin' tootin' revolver shootin' wasteland campin, Cowboy .While they aren't a fan of the NCR or the "civilized" Vegas, they like to stop in little desert towns like Goodsprings during their travels. With the Home on the Range perk, you can sleep on any campfire, which is great for their drifting survivalist lifestyle. If you're an honorable cowboy, then you'll want to help the genuine honest folk of the wasteland and take down vicious raiders. If you're going for a dishonorable outlaw, then feel free to cooperate with thugs such as the powder hangers, and rob, steal, and kill anything you want. It's a tough world out there, and only the strong survive.
Moral Alignment – Neutral Good or Neutral Evil (your choice)
You can either choose to be a more honorable gunslinger or a no-good dishonorable bandit for your morality and personality.
The Western Survivor will side with Yes Man as he doesn't want any pesky authority ruining his home on the range, and wants the Mojave to be wild and free from any ruler. Alternatively, if you want to play Sheriff, you could side with the NCR to bring law to the wasteland.
Equipment
A cowboy hat, of course. Any one will do. For other early-mid game apparel, I'd go with a Merc Outfit and/or Leather Armor. For the end-game, wear the Desert Ranger Combat Armor[fallout.gamepedia.com] from the Honest Hearts DLC.
For weapons, make sure you western themed weapons such as revolvers, cowboy repeaters, dynamite, and leaver-action shotguns. For melee, you can find Chance's Knife[fallout.gamepedia.com] early on, but if you don't want to risk it with the Cazadores, then just use a regular combat knife. These weapons will also benefit from the Cowboy Perk once you get it.
For endgame weapons, I'd go with the Mysterious Magnum[fallout.gamepedia.com] for a revolver (although any unique revolver will do) and the Medicine Stick[fallout.gamepedia.com] for a rifle.
Tips for playing
In combat, make sure you use VATS a whole lot, to utilize your high luck and perks for devastating critical hits. For skills, aside from maining your tag skills, also invest into Explosives, Barter, and Repair on the side. Try not to carry a whole lot in the early game so you won't be overencumbered in buildings all the time. For your main companion, I'd pick either Raul or Cass, as both fit the cowboy aesthetic and their companion perks work well for this build. You can also go with Boone, and during his quest convince him to let go of his desire for revenge so he can get the Recon Survivalist Armor.
The Gambler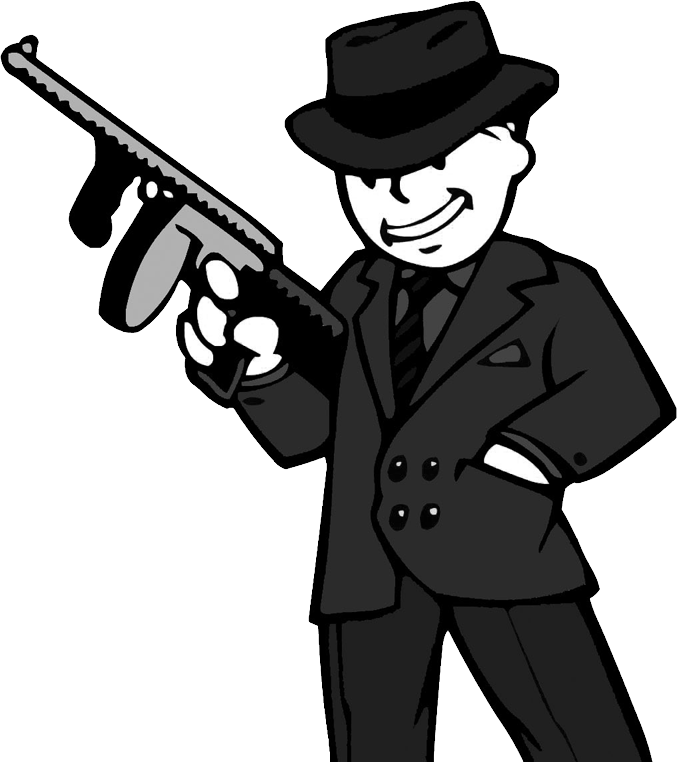 "Nyehaeh, there's the high roller!"
– Chairman Bodyguard
Backstory
The Gambler grew up in poverty on the rugged slums of New Reno, with no father and a single mother who worked as a prostitute. The Gambler struggled all their life until they were old enough to enter the casinos. Slowly but surely, by seemingly pure luck, the Gambler built up fame and wealth by gambling their money in the casinos. For the first time in their life, they felt like they were more than a piece of street trash. The Gambler at one point even got a job as a crier for one of the casinos and helped himself and their mother get off the streets. However , he was eventually forced to leave New Reno for good after getting into some hot water with one of the powerful crime families. While they were seemingly at the bottom again, they heard various rumors about the grand city of New Vegas, a place full of even better casinos and without the scum and filth of New Reno. It was even supposedly run by pre-war legend Robert House. Vegas seemed to be the place of their dreams and even more. The Gambler went on to trek the desert of the Mojave , with only the towering Lucky 38 casino to guide them to their destination. They eventually got into a courier job in Primm so they could get just a few more caps they could save to later gamble away. However, fate had a bit of a different plan for the Gambler.
Attributes
Strength – 4
Perception – 5
Endurance – 4
Charisma – 8
Intelligence – 5
Agility- 6
Luck – 8
Tag Skills
Traits
Good Natured
Logan's Loophole (optional)
Perks
Lady Killer
Educated
Confirmed Bachelor
Bloody Mess
Gunslinger
Bloody Mess
Sneering Imperialist
Ferocious Loyalty
Terrifying Presence
Finesse
Center of Mass
Better Criticals
Action Boy/Girl
Weapon Handling
Grim Repears Sprint
Mysterious Stranger
Main Quest, Roleplaying, Etc,
The Gambler will side with Mister House in the main quest as his loyal enforcer and protege, as the Gambler believes in his vision for Vegas. Anything the House wants done, they'll get it done. He spends a lot of time gambling at the casinos in Vegas, because it obviously fits with the character, and with high luck you should have a lot of success winning big, although don't push it. The Gambler isn't a fan of "uncivilized " groups such as the Legion or the Brotherhood of Steel, and he has a special hatred for "tacky" thugs such as the Omertas and Powder Gangers. They respect the Followers of The Apocalypse, as they seem to be helping the poor people in Freeside. They especially hates thugs and raiders who prey on the weak. The Gambler will usually try to avoid fighting and instead use their words to settle conflicts.
Alignment – Lawful Neutral
He's quite the affable gentleman, but he can be a ♥♥♥♥ to those he doesn't see as "civilized".
Equipment
For early game apparel, use Pre-war buissness war and a Pre War hat if you want. For the end-game though, wear Benny's Suit[fallout.gamepedia.com].
While The Gambler usually resolves conflitcs with his silver tongue, don't be afraid to whip out your Tommy Gun when the going get's tough. Specifically, use the .45 Auto submachine gun[fallout.gamepedia.com] and add the drum attachment[fallout.gamepedia.com]. For your secondary weapons, just use 9mm pistols and submachine guns until you get Benny's gun Maria[fallout.gamepedia.com] and Vance's 9mm submachine gun[fallout.gamepedia.com].
Tips for playing
Try to resolve as most conflicts as you can with your speech, but don't be afraid to use your weapons, or maybe just let your companion handle it. Your luck will especially help you in VATS because of your high crit chance which will only get better as you get more of the perks. It'll also help you when gambling, of course! For companions, pretty much anyone will do. Don't be afraid to go crazy with chems, as the Logans Loophole trait has got you covered.
The Steel Soldier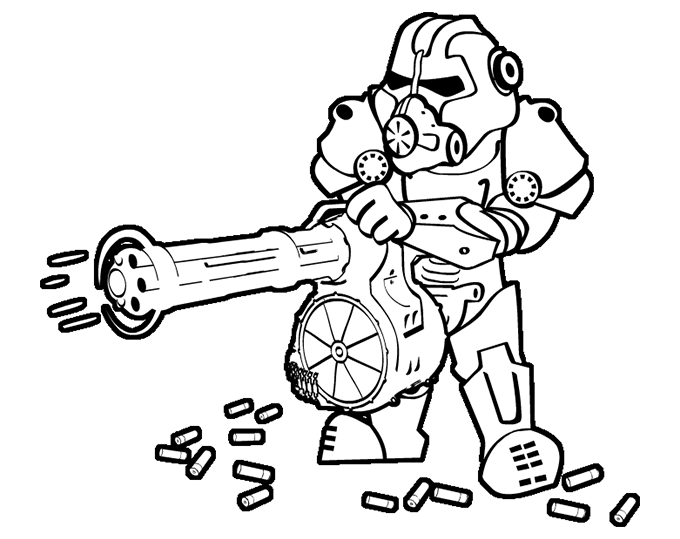 "For the Brotherhood."
– Veronica Santangelo
Backstory
Many years before the first battle of Hoover Dam, the Brotherhood of Steel in the Mojave sent out hundreds of their best men and women led by the Elder Elijah into HELIOS One to establish a heavily fortified garrison and examine the hidden technology within. Eventually, the Brotherhood at HELIOS were devastated and defeated by the NCR in their infamous Opetation Sunburst[fallout.gamepedia.com]. However, one survivor, a Paladin of the brotherhood, decided to adopt a newborn orphan he found in an encampment next to the orphans dead mother while aimlessly wandering the wastes after the death of his comrades. He and the baby moved on to settle down on a simple farm. The former Paladin taught the child a lot about the knowledge of the old world, and how to use energy weapons as well as many other teachings from the Brotherhood. Despite this, the ex-paladin was content with his simple life, and blamed both the Brotherhood and the NCR for the bloody conflict in HELIOS. The child, however, felt the exact opposite, as they were always fascinated with their adoptive lineage and wanted to go out in the wastes and join the brotherhood like their dad, much to his adoptive fathers dismay. Eventually, the farm ran on hard times, and the child used this opportunity to go out and enlist in the NCR, to earn for their farm as well as live the soldier life, similar to life in the Brotherhood according to his dad's stories. In the NCR, the Steel Soldier thrived as an NCR heavy trooper, wearing the armor formerly owned by the Brotherhood they idolized. Once coming home, however, they found their adoptive father had died while he was gone, and the farm has abandoned and picked apart by prospectors. The Steel Soldier decided to seek out the Brotherhood in the Mojave, while doing some jobs on the side for caps for their journey. They eventually found a courier job in Primm, and was shot in the head and later brought back to life in Goodsprings.
Attributes
Strength – 3
Perception – 8
Endurance – 8
Charisma – 1
Intelligence – 6
Agility – 6
Luck – 8
Tag Skills
Energy Weapons
Science
Unarmed
Traits
Perks
Intense Training (Perception)
Educated
Bloody Mess
Vigilant Recycler
Finesse
Math Wrath
Commando
Life Giver
Piercing Strike
Jury Rigging
Better Criticals
Laser Commander OR Plasma Spaz
Paralyzing Palm
Grim Reaper's Sprint
Nerves of Steel
Optional Perks :
In Shining Armour (this perk is actually bugged. Make sure you get a patch mod like YUP[www.nexusmods.com] to fix it, if you're taking this perk)
Sneering Imperialist
Main Quest and Roleplaying
The Steel Soldier isn't as smart as a scribe, or as wise as an elder, but you can bet your ass he can fight like a paladin. He will be forever loyal to the brotherhood (although he'll choose Macnamara over Hardin) and won't be afraid to crush their enemies. He also isn't afraid to vaporize any NCR haggler or Wasteland Savage trying to take his precious technology, of course!
For the main quest, the Steel Soldier will side with any faction that will tolerate the Brotherhood (NCR or Yes Man).
Alignment – Lawful Neutral
Equipment
For your main apparel, get some Power Armor. You can start out with T-45 armor but make sure you upgrade to T-51 as soon as you can.
For early game weapons, just use any common energy rifles you can find. For end-game weapons, you have a variety of weapons to choose from. If you're going with laser weapons, I'd recommend the Tri-beam Laser Rifle (GRA)[fallout.gamepedia.com] (which is different from a regular tri-beam laser rifle due to it being highly moddible) or the AER14 Prototype[fallout.gamepedia.com], but if you want to use heavy laser weapons, get the Sprtel Wood 9700 (GRA)[fallout.gamepedia.com]. If you want to go with plasma, go with the Q-35 Matter Modulator[fallout.gamepedia.com] or The Smitty Special[fallout.gamepedia.com] if you like heavy weapons. For your unarmed weaponry, go with the unique Displacer Glove Pushy[fallout.gamepedia.com] or the Industrial Hand[fallout.gamepedia.com] from the Lonsome Road DLC
Tips for playing
Besides your original tag skills, you'll also want to put some side points into skills like Repair and possibly Explosives if you also want to use plasma/stun grenades. In combat, use VATS to destroy your opponents with your high luck and later perks. For companions, Veronica is obviously your first choice. When doing her quest, make sure you side with the Brotherhood. Also, get ED-E and also side with the Brotherhood in his quest. You might also want to get Arcade Ganon, as his quest can also get you Power Armor Training. Raul's perk when his quest is done negates the negative of Built To Destroy, so he's also not a bad option.
The Anarchist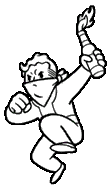 "The only way to ensure relative safety and independence for the people of New Vegas is to prevent others from taking control of the region."
– Arcade Ganon
Background
The Anarchist was born in the Boneyard in California, and saw the citizens suffering first hand. He grew a special hatred in his heart for the NCR for their uncaring of their citizens they were supposed to protect and govern. When he was older, he enlisted in the Followers of the Apocalypse and was entranced by their philosophy of anarchy and independence and believed that this should be the future. However, he eventually got tired of their rigid pacifism even in the face of enemies who trampled on them and eventually left the group to explore the Wasteland. He got to see many other settlements and see the horrible mismanagement and corruption of the NCR and the brutal fascism of the Legion, and gained a desire to fight back against the Powers that be. After getting shot in the head and revived at Goodsprings, the Anarchist sees the Platinum Chip as the key to finally act on his goals and make the wasteland finally free from the fascist group's that control it, and truly independent as it should be.
Attributes
Strength – 7
Perception – 5
Endurance – 6
Charisma – 7
Intelligence – 8
Agility – 5
Luck – 2
Tag Skills
Traits
Perks
Intense Training (Luck)
Educated
Bloody Mess
Demolitions Expert
Fight the Power!
Mad Bomber
Grunt
Super Slam!
Terrifying Prescense
Adamantium Skeleton
Toughness
Paralyzing Palm
Grim Reaper's Sprint
Slayer
Nerves of Steel
Main quest and Roleplaying
The Anarchist won't go for any faction that wants control of Vegas. Instead, he wants complete and total independence from any rulers like the NCR, House, or Legion. This is why he'll be siding with Yes Man and Yes Man only. He doesn't want any other group to turn into would be conquerors, so he'll help Jessup's gang fight off the NCR, destroy the Brotherhood, convince the Khans to leave the Mojave, turn power to everything during That Lucky Old Sun, etc. and even decide to nuke BOTH Legion and NCR during Lonesome Road.
Alignment – Chaotic Neutral
He's a revolutionary, who'll do every thing he can to both help the people and crush those in power he sees as corrupt.
Equipment
For apparel, the Anarchist first needs a mask he can use to strike fear into his foes. A simple hockey mask could work, but I'd reccomend the Breathing Mask[fallout.gamepedia.com] for end game apparel. For your clothes, go with Merc clothing for early game, but equip the Scorched Sierra Power Armor[fallout.gamepedia.com] for the endgame.
For weapons, use any rifles and 9mm pistols for early game. For end-game armaments, get the All American[fallout.gamepedia.com] and A Light Shining in Darkness[fallout.gamepedia.com]. For explosives, use weapons such as fire bombs and other craftable explosives with the Mad Bomber perk, and use Red Glare [fallout.gamepedia.com] for your launcher to explode your enemies to smithereens.
Tips for playing
In combat, don't rely on VATS and instead fight with your pure aiming and damage skills. For side skills, put some points into Sneak for your guerilla tactics, and medicine and science due to your background in the Followers. Arcade Ganon will be your best choice for companions as hes from the Followers and wants independence for Vegas as well. Convince him to fight at the Dam instead of going back to Freeside during his quest. ED-E is also good for your secondary companion, and make sure you give him to the followers during its quest.
The Patriot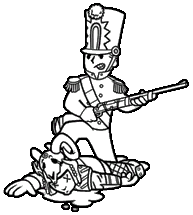 "If we must survive to carry its message… then that is what shall be done. I will not let America die here."
– Ulysses
Backstory
The Patriot was once a proud NCR soldier in California. He always served his country with great enthusiasm and a smile on his face. However, he was always fascinated with the Pre-war propaganda seen on ruins he found while scouting the wastes. The Patriot liked to fantasize about a restored America, back to it's old glory and free from any Wasteland trash. Eventually, when his tour ended, he took his papers and walked, on a new quest to find the new capital of good ol' America, New Vegas. After a Courier job gong wrong, he sets his sights on finding one of his Pre-war idols, Mister House, and help him achieve their dream of a glorious new America!
Attributes
Strength – 6
Perception – 7
Endurance – 6
Charisma – 1
Intelligence – 7
Agility – 8
Luck – 5
Tag Skills
Traits
Perks
Intense Training (Luck)
Educated
Bloody Mess
Grunt
Sneering Imperialist
Demolitions Expert
Hand Loader
Commando
Jury Rigging
Finesse
Adamantium Skeleton
Action Boy
Weapon Handling
Better Criticals
Grim Repears Sprint
Main Quest and Roleplaying
The Patriot will side with Mister House during the main quest to help his new idol to lead the world back into the good ol' days just like he wants. He doesn't take kindly to any dirty raiders or savages trying to "settle down" and "live their lives" on Great American Soil! Despite being intelligent in firearms and explosives, he's quite stubborn in his somewhat backwards beliefs. Anyone who disagrees is just a sub-human wasteland savage that deserves to be shot for questioning the glory of America!
Alignment – Lawful Neutral
Equipment
For early game apparel, leather or combat armor will do. For end-game apparel, go with either the Ulysses Duster [fallout.gamepedia.com] or Courier Duster[fallout.gamepedia.com] to show your American patriotism right on your back, or perhaps the US Army General Outfit[fallout.gamepedia.com] from Lonesome Road.
For end-game weapons, you have a variety of patriotic weapons to choose from. There's the All-American[fallout.gamepedia.com] for the patriotic theme as well as being an amazing weapon overall, as well as the Red Glare[fallout.gamepedia.com] rocket launcher for blowing commies to bits. For pistols, go with the That Gun[fallout.gamepedia.com] pistol. For early game weaponry, go with 5.56m pistols, Rocket Launchers, and Assault Carbines.
Tips
For combat, sneak isn't a very good option for this character. Your fighting style is more gung-ho, explody type combat. For companions, most will do fine but Arcade Ganon's quest gives you Power Armor training.