Overview
In order to celebrate that I got the 100% achievement of Castle Crashers, I will try to share the method for unlocking all achievements of this game in Steam version, by English.(Sorry for my poor English. I'm from Taiwan, a country at East Asia)
Proof of my 100% achievement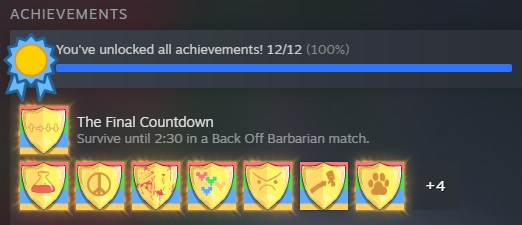 ★ Melee Is Best

Only use physical attacks (melee weapons or archery) to knock down any boss. Defeating the Barbarian Boss to unlock is definitely the fastest.
★ Maximum Firepower

In the "Flowery Field" level, put your character in the catapult, and then eject your character when the power meter is at its maximum to unlock it. If you fail, you can go back to the outside map and restart.
★ Deer Trainer

Play "Abandoned Mill" a few more times to get familiar with the location of obstacles. A little trick is that in the single player state, you can avoid many obstacles by following directly behind the deer herd.
★ Treasure Hunter

Players can get a shovel in the "Desert" level, and then all characters from this account will always own it. Whenever you see the tiny "X" on the ground, you can dig there to find items.
★ Traditional

Noticed that if a player who has already opened the map fully takes your character to jump directly to the last level, it is invalid. Please make sure your own character completes all normal mode mainline levels on the map in order (whether single or multiplayer game).
★ Medic!

Prepare 4 players (local or online), the character who intends to unlock the achievement can choose the high level, and the other 3 characters choose the low level (Lv 1 can be), and do not bring red potions.
Deliberately let the 3 low-level characters be knocked down by the enemies, and then let the characters who want to unlock the achievements do a CPR to each of them.
Because it is difficult to encounter other player in online multiplayer mode now, and this achievement needs to be coordinated in advance, if there is no situation to play with relatives and friends, this will become one of the most difficult achievements.
★ The Traitor

This achievement requires unlocking at least one hidden character that originally belonged to the enemy faction.
★ Kay Eye Ess Ess

Collect all 4 princesses' kisses in a multiplayer game.
Can be accumulated in stages, not necessarily completed in one go.
★ Animal Handler

Get all Animal Orbs (28 types) that can be collected in the main game.
I suggest you visit the "Castle Crashers Wiki" website, it has very detailed information, including information about animal orbs:
[link]
The Animal Orbs "Golden Whale" that you can get by purchasing "BattleBlock Theater" is not required.
★ Conscientious Objector

Follow the levels of "Home Castle" → "Castle Keep" → "Barbarian War" → "Barbarian Boss", the character to unlock achievements is only responsible for dodging the enemy during this period, leaving other characters responsible for attack.
Therefore, there must be at least two characters playing the game at the same time, and there are no restrictions on local multiplayer or online multiplayer.
★ The Final Countdown

Survive until 2:30 in a Back off Barbarian (suitable for single and mutiplayers). This is one of the most difficult achievements.
Each time the game is restarted, a random map is drawn from the limited map pool.
Several methods of obtaining through the bug that have been circulating on the Internet are no longer available with game corrections. It is recommended that players practice harder as you have a chance to achieve it (recommended on a larger map, it is easier to escape the enemy).
If you really can not survive until 2:30, then consider temporarily adjusting the game running rate through dynamic memory modifier such as "Cheat Engine" to make the game screen play slowly to obtain sufficient response time (local game limited).
I would like to remind readers:
This way is only used to unlock this very difficult achievement, please do not use any cheating to ruin others' game experience when playing with others!
★ Arena Master

After selecting the online multiplayer mode, select "Arena" and then accumulate to 40 wins.
Total win data is account accumulative, so you don't need to win 40 games in one breath. Any type of confrontation game in the "Arena" can be included in the calculation.
Due to the difficulty to encounter other player in online multiplayer mode currently, if you want a quick solution, you can ask someone to help each other to get 40 wins.
Described later
After observing and thinking about the above 12 achievements, we can learn that partly achievements can be unlocked at the same time through proper arrangements.
Since some achievements that require 2 or more people, one of them even 4 people to complete, may wish to communicate with other players in advance, seize the opportunity of multiple people to go online to help each other unlock.
Suppose you want to unlock all your achievements. After you are familiar with the basic concepts of the game, you may want to identify which achievements are the most difficult for you and start laying out to unlock them. As long as you can unlock the most difficult achievements, one day will surely unlock all achievements!