Overview
This Build is very specific, because it is optimized for a sneaky Sniper/Melee Character in Hardcore Mode with positive Karma (who is also against or neutral with the Legion), all Story DLC's and GRA.
Welcome!
Welcome to my Guide on how to build my specific Sniper/Melee Assassin. It's specific because to use this Guide correctly, you must have positive Karma, use very specific Equipment (Elite Riot Gear with 1st Recon Beret, Anti-material Rifle/other Sniper Rifles and a Katana). It is optimized for Hardcore mode.
S.P.E.C.I.A.L.
After waking up at the Doc's Bed you tell the friendly Doc your name. Then you go and try to spend your S.P.E.C.I.A.L. Points. But what to choose?
Since you only have 40 S.P.E.C.I.A.L. Points (33 of them are freely usable) you need to spend them wisely.
S.P.E.C.I.A.L.
Points
Target
You will notice that almost every Guide has at least an Endurance value of 7 or more. It's because it determines the amount of Implants allowed. With 7 Endurance you can have every S.P.E.C.I.A.L. boosting Implant. With 9 you can have every Implant available.
At the End of the Game you should have +1 on every attribute, because of the Implants, additional +2 on Strength, because of the Perk "Reinforced Spine" (Old World Blues, after completing it you have the chance to take back your real Spine and you should do it so you obtain the Perk), + 1 on Intelligence (completing Lonesome Road will give you a point you can spend on anything, but I recommend you to raise Intelligence, because the Skills Table works only in that case) and the Armor bonuses +3 Perception and +1 Charisma.
NOTE: Sometimes I chose 7 Luck and take the point from Perception because:
Originally posted by The Fallout wiki:

A Luck of 7, opens up a dialog option in the REPCONN headquarters to allow moving unharmed past the robots on the top floor.
The Traits
Just take the "Fast Shot" and "Skilled" Traits.
Skilled gives you a head start and the "downside" is not really a downside since there is more than enough XP to get level 50. XP boosting Traits and Perks are even a waste of a Trait/Perk slot!!!
It seems like Fast Shot is better for Machine Guns while Trigger Discipline is better for Rifles, but trust me; It's the other way around! While you can shoot faster with an Anti-material Rifle, which gets an accuracy penality but because it's accuracy is high the penality is not that big (from 0.015 to 0.018), you don't waste so much ammo with Machine Guns.
The Skills
Take any Tag skills you want, but I recommend Barter and Speech.
Max Value = Maximal Amount of Skill Points until you waste those precious Points. Skill changes form Implants and permanent S.P.E.C.I.A.L. bonus will be already added on the level up screen. However, changes from clothing will not. Be sure when you want to bring a skill to 100 that you already have all S.P.E.C.I.A.L. points on the target value and it isn't the skill that is boosted by the armor!!
Secret hint: The Skilled trait gives you +5 on every skill, right? Now if you go to the Auto-Doc in the Sink (OWB DLC) you can re-apply the Skilled trait and due to a but it will give you +10 on every skill instead!
Perks
Level
Perk Name
Requirements
Notes
2
Black Widow / Lady Killer
Ladies first ( ͡° ͜ʖ ͡°)
4
Cherchez La Femme / Confirmed Bachelor
With those 2 perks we have 5% bonus damage to both gender. Also we can make our lives easier by bypassing some things.
6
Bloody Mess
Oh look! Another 5% Damage bonus! Also if the Killing Blow is a Critical Hit, the Victim explodes, but this is just a nice side effect.
8
Strong Back
Strength 6, Endurance 6
Why should we say no to more carrying capacity?
10
Hand Loader
Repair 70
Hope you focused on Repair first, because now we can make special ammunition!
12
Silent Runner
Agility 6, Sneak 50
Sneaky, sneaky!
14
Jury Rigging
Repair 90
That's some OP ♥♥♥♥ right here! Very important Perk. Just be cautios not to use any unique weapons to repair the standart ones.
16
Better Criticals
Perception 6, Luck 6
More Critical Damage is what we need!
18
Chemist
Medicine 60
Because we are in Hardcore Mode, we need extra healing.
20
Living Anatomy
Medicine 70
The next BIG thing in our list! We can see now if we need to use Armor Piercing bullets or if Hollow Point bullets are enough. NOTE: After picking the Perk, the damage values shown in the Pip Boy in the Category "Weapon" are multiplied by 1,05. Beware, the weapons don't do as much damage as shown.
22
Stonewall
Strength 6, Endurance 6
You may have experienced some dogs/deathclaws who knocked you down so you can't do ♥♥♥♥ while they rape you? Well, now it's impossible!
24
Light Step
Perception 6, Agility 6
Annoyed by mines that exploded under your nose while you tried to sneak onto someone? Now you don't have to fear those mines anymore.
30
Burden to Bear
Strength 6, Endurance 6
This very useful Perk comes with an unbearable Pun!
32
Implant GRX
Endurance 8
A self refilling, non-addictive Turbo injector! Use it wisely! (One of those sutuations is for example and attacking deathclaw)
34
Explorer
You don't have to take this perk, but I like to take it personally.
36
Finesse
+ 5% Critical chance is good, because now 5 more out of 100 shots will hit critically. (With non-boosting critical chance weapons)
38
Them's good Eatin'
Survival 55
If you don't need it for the heals, you'll need it for the caps. But at this point you'll have ~50,000 caps anyways.
40
Ninja
Sneak 80. Melee 80
Now you're officially a Ninja as well! Bug: The additional Critical Strike Chance Multiplies instead of being added. But some additional Chance is better than no additional Chance.
42
Unstoppable Force
Strength 7, Melee 90
The meaning of life is being an unstoppable force!
44
Piercing Strike
Unarmed 70
Now even their Armor won't help them anymore.
46
Slayer
Agility 7, Unarmed 90
Now is a good time to have the Agility Implant. Now you really slice through your enemys like a storm. I heard under special circumstances you can make 6 attacks per second with the Katana …
48
Free Slot
Just take anything you want. I actually don't have any idea what perk to get at this point.
50
Just Lucky I'm Alive / Thought You Died
This is the End (and if you're not able to take "Thought You Died" I'll beat you!)
[/table]
Getting the Gear
Anti-material Rifle
The Gun Runners usually sell this for something above 7000 caps. Be sure to get the GRA version.
Katana
I got my Katanas from Mick & Ralph's. It is much cheaper than the Anti-material Rifle.
1st Recon Beret
Recruit Boone. He lives in Novac and guards the city at nighttime in the dinosaur mouth. To recruit him, speak with him so he will suggest you to find something out about the guy who sold her wife. After you found the evidence (or having a good speech skill) you can lure the guy safely to the front of the dinosaur because otherwise he won't be recruitable.
Elite Riot Gear
You can get this sweet gear at the 3rd street multiprincipal building. It's somewhere on the North-East part of the map in Lonesome Road. Just go to the first floor and enter the canalisation. If you walk through the canalisation, you will get to the third floor of the building. There's a ghoul corpse with the Elite Riot Gear on. Just take it. Doing this action may spawn 2 deathclaws.
That's how the building looks like: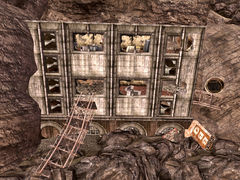 Best Companion Combo
I always choose Boone (NCR Sniper, Novac) as the human companion, because I get the Beret from him and also he's a very useful damage addition.
As the non-human companion I choose ED-E, because it can be either offensive or defensive (Quest: ED-E, my love). Its perk synergyzes with boone's perk. It is also very helpful at the beginning. Not only because you have low Perception at that state of the game.
THE END
Thanks for reading my Build and have fun with it!