Overview
Is Splinter Cell: Conviction quitting after a black screen? Or is The UbisoftGamerLauncher having problems? Or Is Splinter Cell:Conviction JUST NOT OPENING AT ALL? Here are some possible fixes!CREDIT GOES TO "KingDaniel0" & "justinpunny" from The Ubisoft forums for the black screen fix!!!KingDaniel0 – > http://forums.ubi.com/showthread.php/487678-Conviction-Game-Possible-FIXES-(have-a-look-here)-Forumsjustinpunny – > http://forums.ubi.com/showthread.php/432734-Black-Screen-Crash/page2
All Possible Fixes!!!!
1st Step (if necessary): Fix for UbisoftGameLauncher OR "error 50000065434" code:
– The usual first step is that the game won't let you play or even launch because you have an old version of "Uplay" that steam downloads for you. You must download the latest version of Uplay (NOW CALLED "Ubisoft Connect") for this game to be able to launch, or you might get the "error 50000065434" code, and the game cannot be launched.
– You can also download the official latest version of "Uplay" (Now called "Ubisoft Connect") through their official Ubisoft website.
[link]
Fix for Compatibility Issue (Usually Windows 10):
1. To fix the compatibility problem, just find where your "steamapps" directory is on your pc, then click commonTom Clancy's Splinter Cell Convictionsrcsystem
2. Right click on "conviction_game.exe" go to the "compatibility" tab and select "Run this program in compatibility mode for windows 7"
Fix for "black screen for 2 seconds when starting up, then quits to desktop":
1: Make sure to go to the directory provided in step 2 (below this one). IT IS IN YOUR "PROGRAMDATA" FOLDER in C: WHICH MIGHT BE HIDDEN. To view hidden files, go to the top tabs of "explorer" and click the "view" tab. In there you can find an option to "view hidden items"
2: Directory is -> C:ProgramDataUbisoftConviction The file should be named "ConvictionUserPC.ini"
3: Right click the file, Open it in notepad and scroll down to the area which mentions:
[UserVideoOptions.Your_USER.ACCOUNT_Name]
VisualQuality=2
StartupFullscreen=True
FullscreenViewportX=
FullscreenViewportY=
MaxRefreshRate=60
WindowedViewportX=
WindowedViewportY=
UseVSync=False
UseHDR=True
MonitorAspect=-1.000000……
4:
Change your resolution in the section below to the appropriate resolution your computer is using:
FullscreenViewportX=
FullscreenViewportY=
5: If it still doesn't work, make sure to CHECK YOUR MONITOR'S REFRESH RATE. THE GAME WILL NOT START UNLESS THE GAME'S REFRESH RATE MATCHES YOUR MONITOR'S
MaxRefreshRate=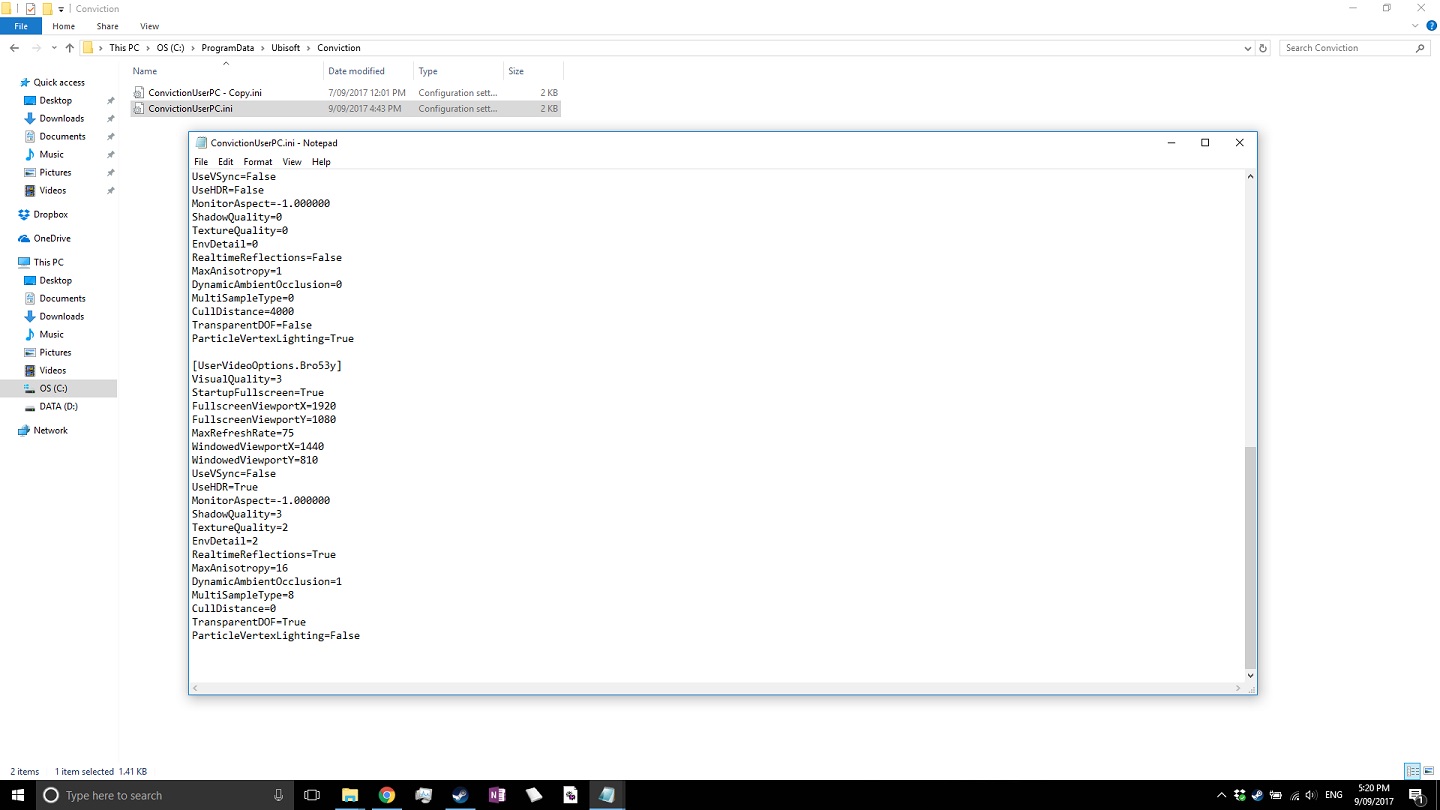 CREDIT GOES TO "KingDaniel0" & "justinpunny" from The Ubisoft forums for the black screen fix!!!