Overview
This guide will show you how to install the RobCo Operating Systems on your Terminal.
RobCo Operating Systems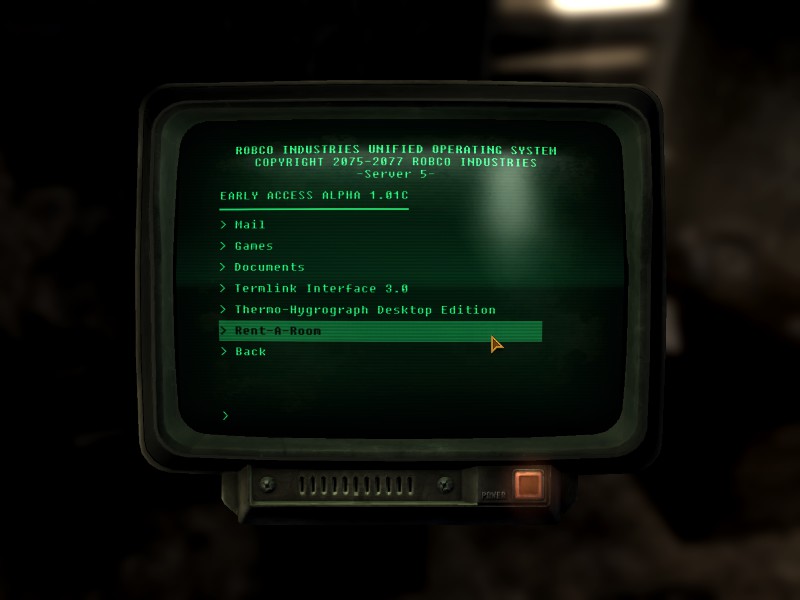 Tired of having those Terminals in your house, but they don't actually do anything?
No longer! With the same but improved RobCo Industries Operating System!
NOTE: THIS VERSION IS EARLY-ACCESS ALPHA, FUTURE UPDATES SHOULD BE HARMLESS
CURRENT FEATURES
Mail your friends that you want to get rid of 'em!
Read documents that might save your precious life one day!*
(*includes the V-Tec Birth Certificate Template!)
Play games unlike any you've ever seen before!
Use the Termlink Interface 3.0 to connect to other terminals*!
(*different networks might require significant skills in science)
Connect to the Thermo-Hydrograph from the desk!
Rent a room from miles away!
FUTURE PLANS:
Do lore-friendly business with the Crimson Caravans![/b] (0% done)
And more! Because this is just an addition to what you already had!
(RobCo Industries welcomes any endorsements in the form of Pre-War Money or gold.)
Description
ROBCO TRESPASSER MANAGEMENT SYSTEM
Use the Termlink Interface 3.0 to connect to the network.
Pick a destination and try to find another Terminal with Termlink Interface 3.0 Installed.
Use this Terminal's Termlink Interface 3.0 to connect to the network again.
Now you are hacking through a proxy!
Using proxy's will make you harder to detect and makes it easier to hack networks that require high skill.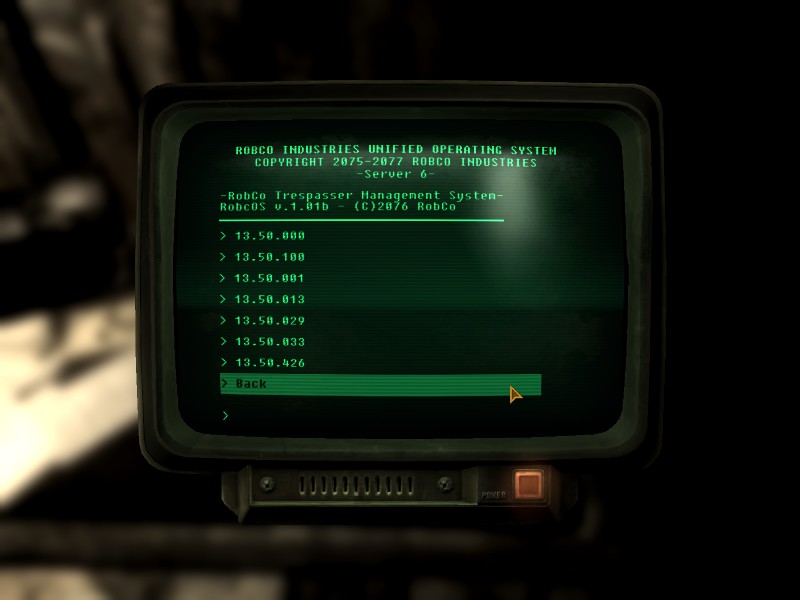 RENTING A ROOM
Use the Rent-A-Room to pick a room, and it'll be rented before you get there!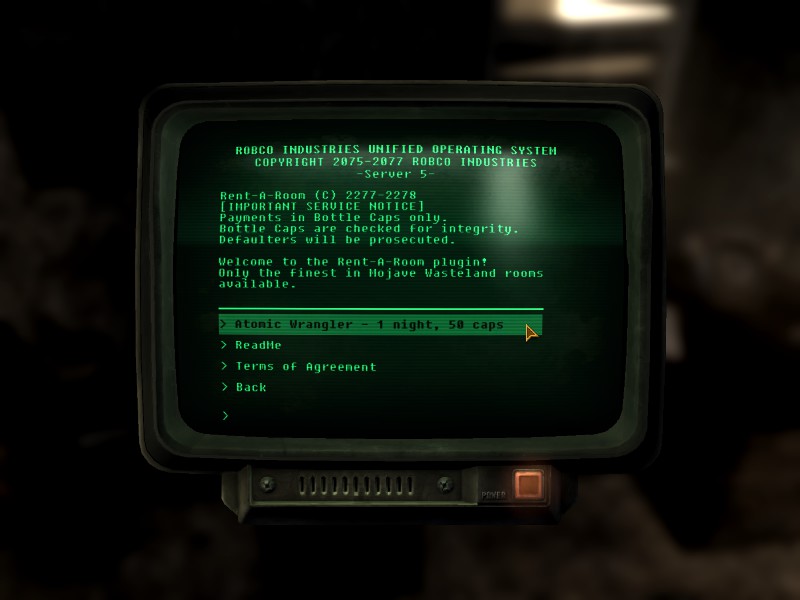 Installing
DOWNLOAD THE OPERATING SYSTEM FROM HERE!
[link]
Use the legendary FOMM or put the .esp file in the data directory.
[INTELLIGENCE 4 / SCIENCE SKILL 15 REQUIRED]
INSTALLING THE OS ONTO YOUR OWN CUSTOM TERMINAL
To add this OS to the terminal in your custom house, you need to have FNVEdit installed:
[link]
It looks like this:
[link]
Find the Terminal, and in its 'View' tab you will find 'Submenu' (near the bottom).
Edit the Submenu, type OSROBCO and it (the corresponding Submenu) should pop up, select it, voila.
USE FNVEDIT TO ADD THE EDITORID "OSROBCO" TO A SUBMENU OF YOUR TERMINAL
[INTELLIGENCE 6 / SCIENCE SKILL 25 REQUIRED]
In other words, if you have a custom house and want to add this to your terminal there, do so in FNVedit, find your terminal, add OSROBCO as a submenu.
MOD COMPATIBILITY
Compatible with everything!*
Compatible with Faster Terminals by ZaAl
*Incompatible with mods that change the menu options of the vanilla Terminals..
PATENTS USED
Reverse-engineered in FNVEdit.
NevadaSkies.esp
Bottle Caps Go To
That dude that made the mod that made my location references Italian and forced me to dl FNVEdit cause it was worth it.
That dude that helped me out in the Nexus chats. (SalZone)
That other dude that inspired me to use a journal entry by Mr. Fantastic as a tutorial.
Them dudes (or that dude?) that made FNVEdit. Holy funk that shizzle's awesome!
Same goes for FOMM, where would I be without you?
Everyone for every mod out there, I'm using about 50 of 'em, my favorites are:
ALTERNATIVE START BY FAR!! Million times more replayability and I looove it… Furthermore: Proj Nevada, NevadaSkies, The Strip/Freeside Open (you haven't been to Freeside 'till you've been to Freeside Open) and the CONELRAD Radio which taught me more about history than His-story Channel ever will. Someone should marry you guys / girls / ghouls.
My homey Onaka for going over the lore with me to keep it real.
The Fallout wiki's and it's contributors. (y u no contribute terminal locations?)
Everyone affiliated in creating the Fallout series.
Lore/Gameplay Notes
The idea behind this mod was to make the terminals a tad more useful.
It makes the hacking a lot more realistic, immersive and fun!
It is NOT an overpowering mod!
If your science skill is not high enough, networks will not show.
Science skill required: 25/35/45/55/65/75/85 for corresponding networks.
(using proxy's will lower the skill requirement)
A lot of effort has gone into gameplay- and lore-friendlyness.
Please let us know if you disagree with something <3