Overview
Do you want to eliminate Deathjaws with ease? Try this build then.
Starting out
S.P.E.C.I.A.L
S – 3
P – 10
E – 10
C – 10
I – 1
A – 3
L – 3
Tag skills
I tagged science, sneak and survival because I like sibilance (and also so we can snag some tasty perks early on).
Traits
I chose Hot-Blooded as my first trait, just so we can savour those long reloads even more. I also took Wild Wasteland because if you don't it's probably a war crime
Skill Points
As a rule, you can't allocate any skill points into any combat skills, and instead will have to put them all into support skills. Also, no skill books allowed because reading is for chumps/nerds/literate people.
Perhaps you could take Good Natured to make your combat skills even worse, but then you would miss out on seeing some aliens. And I'm in the mood to see some aliens.
A New Vegas build is only as good as its perks, which is why I've handpicked only the most dire amazing perks to complement our setup.
Perks
Lvl 2 – Friend of the Night (Requires Sneak 30)
You know it's gonna be a great build when the first perk you get is Friend of the Night
Lvl 4 – Cannibal
For dining upon all those delicious corpses someone's generously left around the wasteland.
Lvl 6 – Lead Belly (Requires Survival 40)
You can drink toilet water guilt-free, what's not to like?
Lvl 8 – Ferocious Loyalty
Hey, want your companions to be even more tanky? No? Well, here's this perk anyway.
Lvl 10 – Here and Now
New Vegas is a boring game anyway with bad graphic, this perk makes this SNOOZEFEST go faster
Lvl 12 – Ghastly Scavenger
This perk makes you a proper Tarrare of the wasteland by munching on mutated man meat
Lvl 14 – Animal Friend (1) (Requires Survival 45)
Human civilization has spurned you for your many crimes against humanity, becoming furry seems like the only rational option
Lvl 16 – Mister Sandman (Requires Sneak 60)
You can shank people when they're asleep, then feed on their flesh. Pretty cool
Lvl 18 – Rad Resistance
And the most forettable perk award goes to Rad Resistance
Lvl 20 – Terrifying Presence (Requires Speech 70)
What can I say, I'm a sucker for telling Vulpes to go ♥♥♥♥ himself
Lvl 22 – Life Giver
Taking this perk makes sure you always have Jesus during your travels, no matter where you are
Lvl 24 – Explorer
Now you can scope out those tasty communities you have on your grocery list
Lvl 26 – Mile in their Shoes (Requires Survival 25)
Mmm tasty nightstalker juice
Lvl 28 – Eye for an Eye
Do you like walking slowly? And having migraines? And swaying your weapon? Well then this perk is for you
Lvl 30 – Tribal Wisdom (Requires Survival 70)
To supplement your insatiable hunger, you've decided to expand your diet from humans to ghouls to insects. Can't say no to extra protein!
Lvl 32 – Spray 'n Pray
With this perk you can now abuse Veronica for longer
Lvl 34 – Long Haul (Requires Barter 70)
Tired of being overcucumbered? Well then take this perk so you can pawn off all your crap at the Dino Dee-lite more easily
Lvl 36 – In Shining Armor (Requires Repair 20, Science 70)
This is the best perk in the entire game. All the naysayers saying things like "it doesn't work" or "it's bugged" don't know what they're missing. If you have a patch or something that "fixes" this perfection, uninstall it immediately and give yourself 20 lashings, degenerate.
Lvl 38 – Home on the Range (Requires Survival 70)
You can sleep at a campfire, wow very cool
Lvl 40 – Infiltrator (Requires Lockpick 70)
Tired of breaking locks? No? WELL HAVE I GOT NEWS FOR YOU
Lvl 42 – Certified Tech
Someone at Obsidian fell asleep at their keyboard and didn't program the crit chance correctly, shocker
Lvl 44 – Broad Daylight
Turning your pipboy light off is a long, arduous process. So take this perk instead
Lvl 46 – Chem Resistant (Requires Medicine 60)
Drugs are bad mkay
Lvl 48 – Roughin' It (Requires Survival 100)
Taking this perk lets you sleep outside, now if only the voices inside your head didn't keep you up
Lvl 50 – Tag!
Because we've hit the level cap, now would be the optimum time to take Educated. Unfortunately we are too stoopid to take it, and we'll have to take a different perk. Perhaps we should get one of the three best perks you can get at level 50? Nope, let's take Tag!!
Note: your fourth tag skill must be barter at 99 skill points so you can get the most out of this perk.
Implants
None, if you try and put an implant into me I will implant a bullet into your brain
Weapon
I thought long and hard about the weapon I wanted to use in this build. Perhaps I should use the mighty silenced pistol to smite my enemies, or maybe the boxing tape to pummel them into red mist. I could take the rolling pin to knead them into dough, or even the straight razor to carve them up.
These are all good options, but I think the BB gun has my recommendation. With a staggering mag size of 100 and a built in silencer, this weapon has literally no flaws whatsoever.
Okay so maybe a couple
Apparel
For this build you are required to wear the exposed prostitute outfit or slave rags, with the party hat or slave scarf as a headpiece. This setup strikes fear into the heart of your enemies, whilst also increasing your perception even further if you wear the slave scarf. Don't forget to wear some snazzy shades to make full use of In Shining Armour.
Playstyle
Eat some people lol
Courier face
For a build this terrifying, we're going to need a face to match, so here's my beautiful creation in all his glory: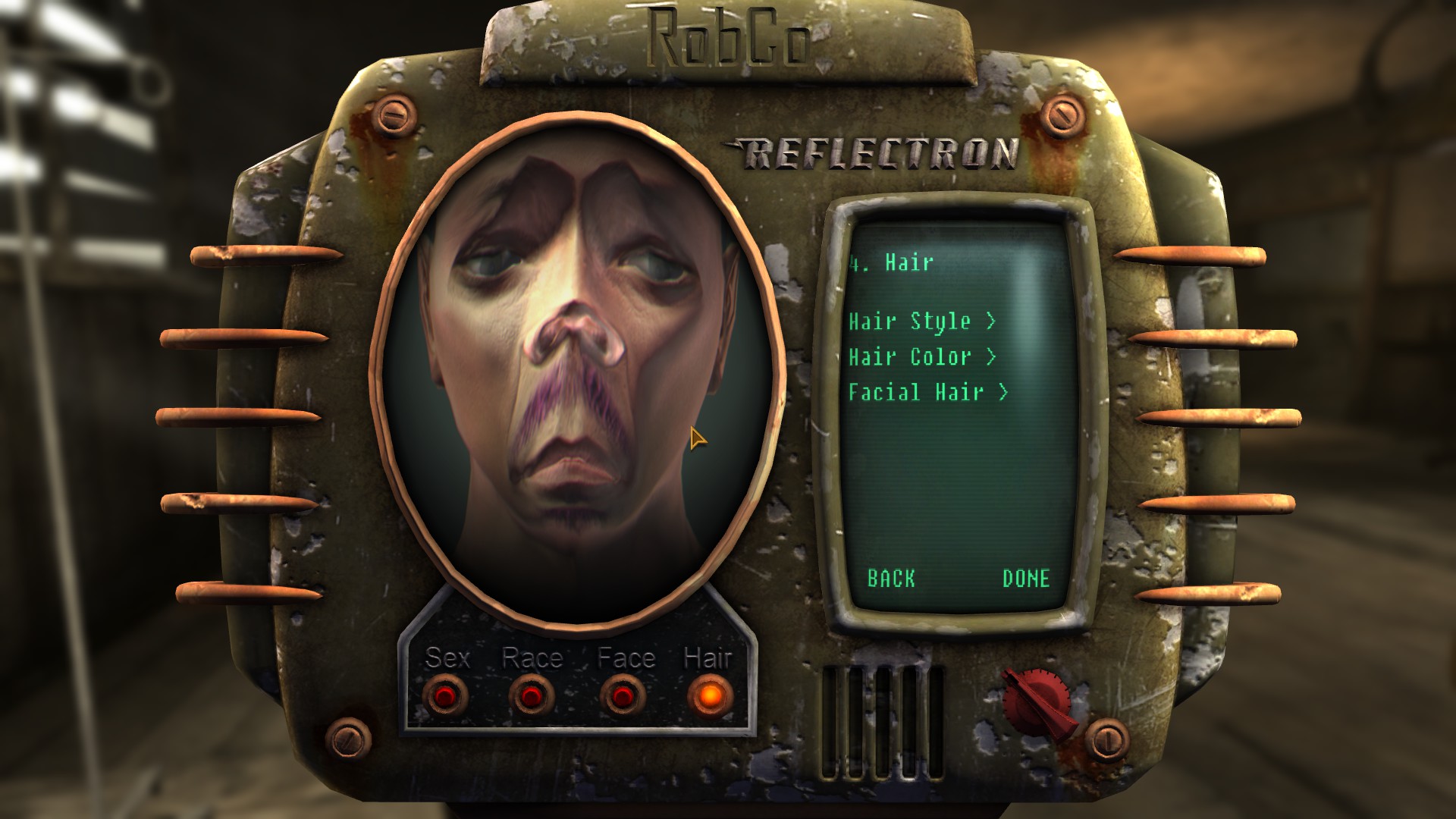 In profile: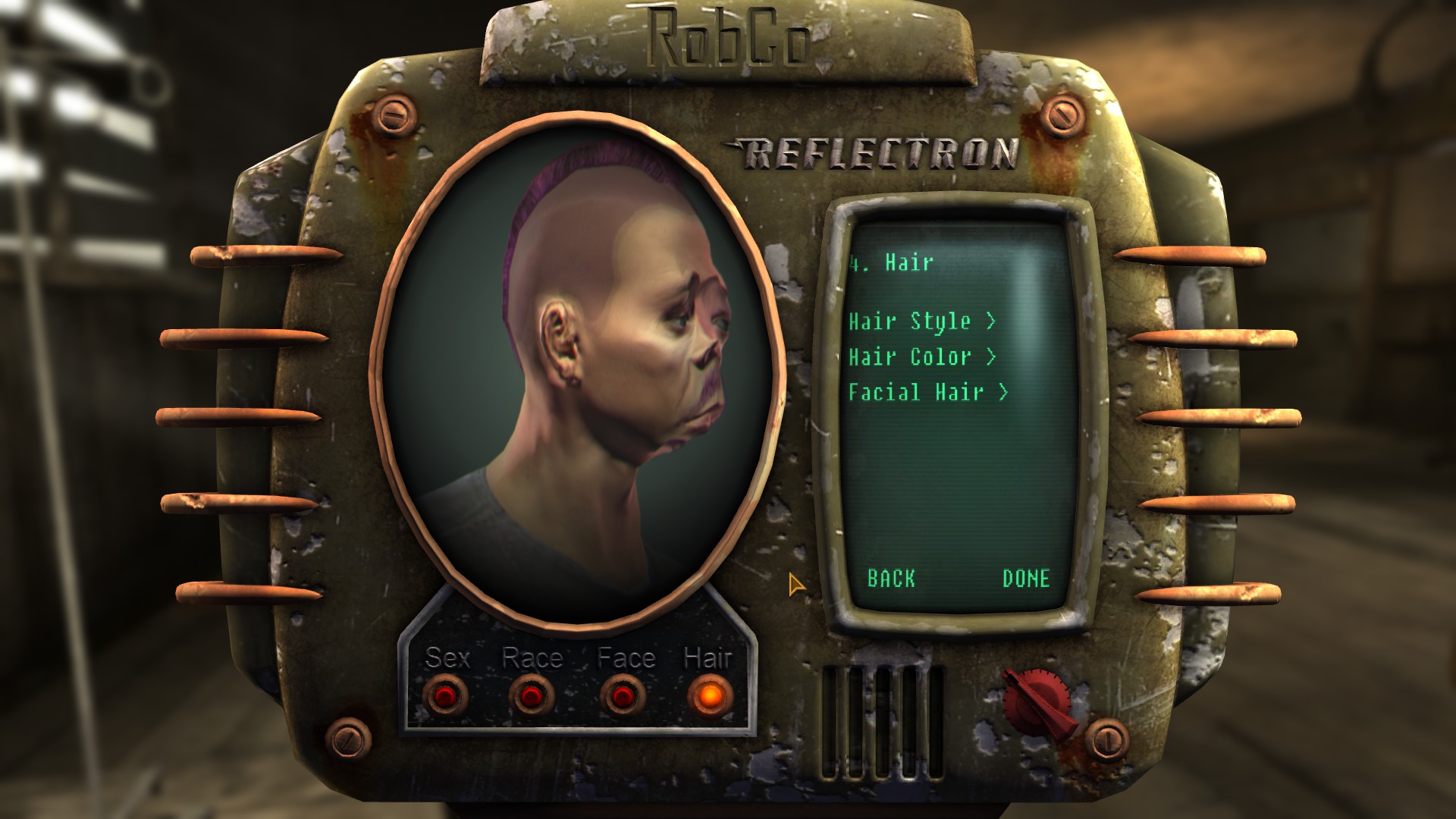 What have you done to my face doc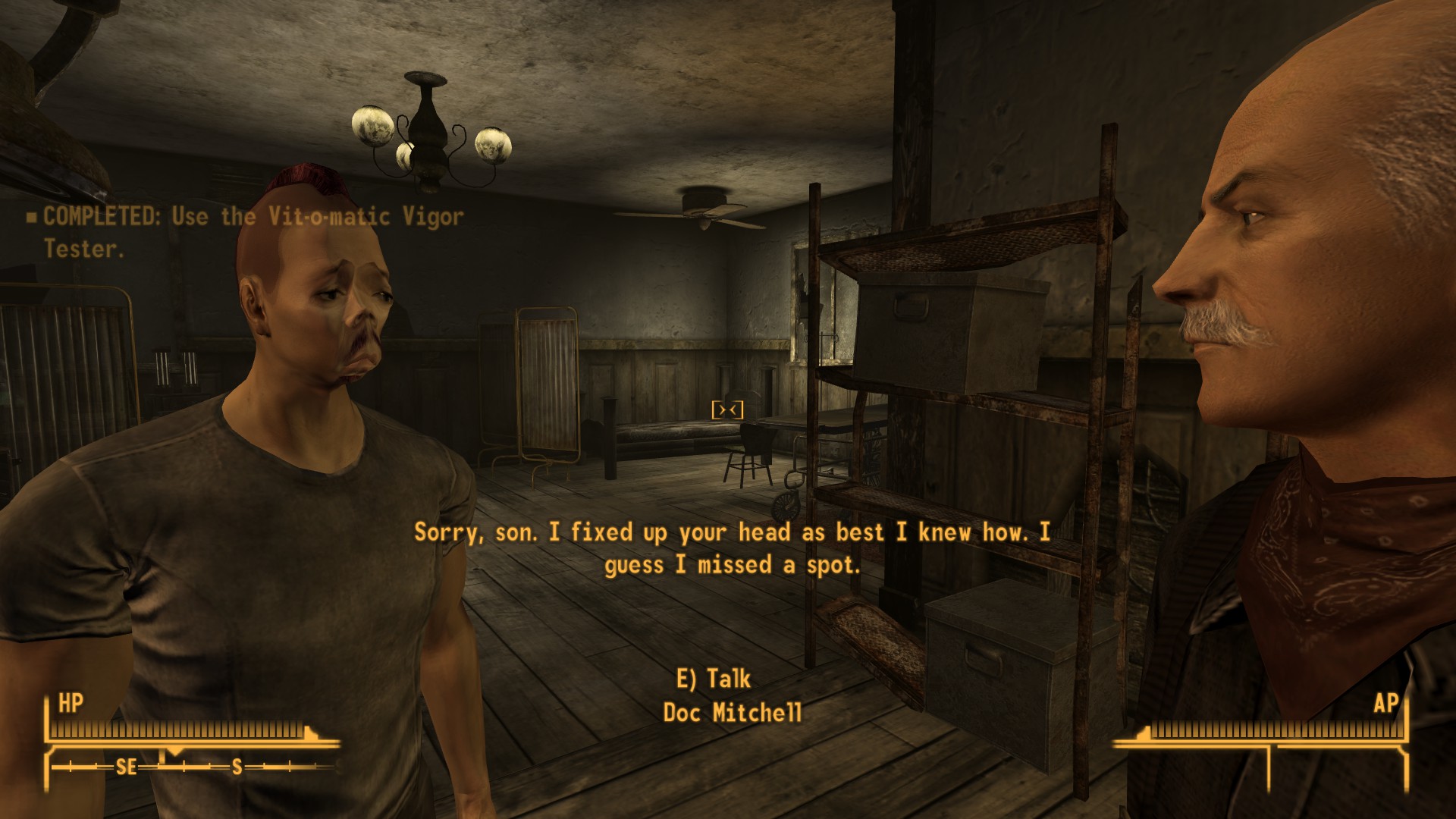 My baby in his natural habitat: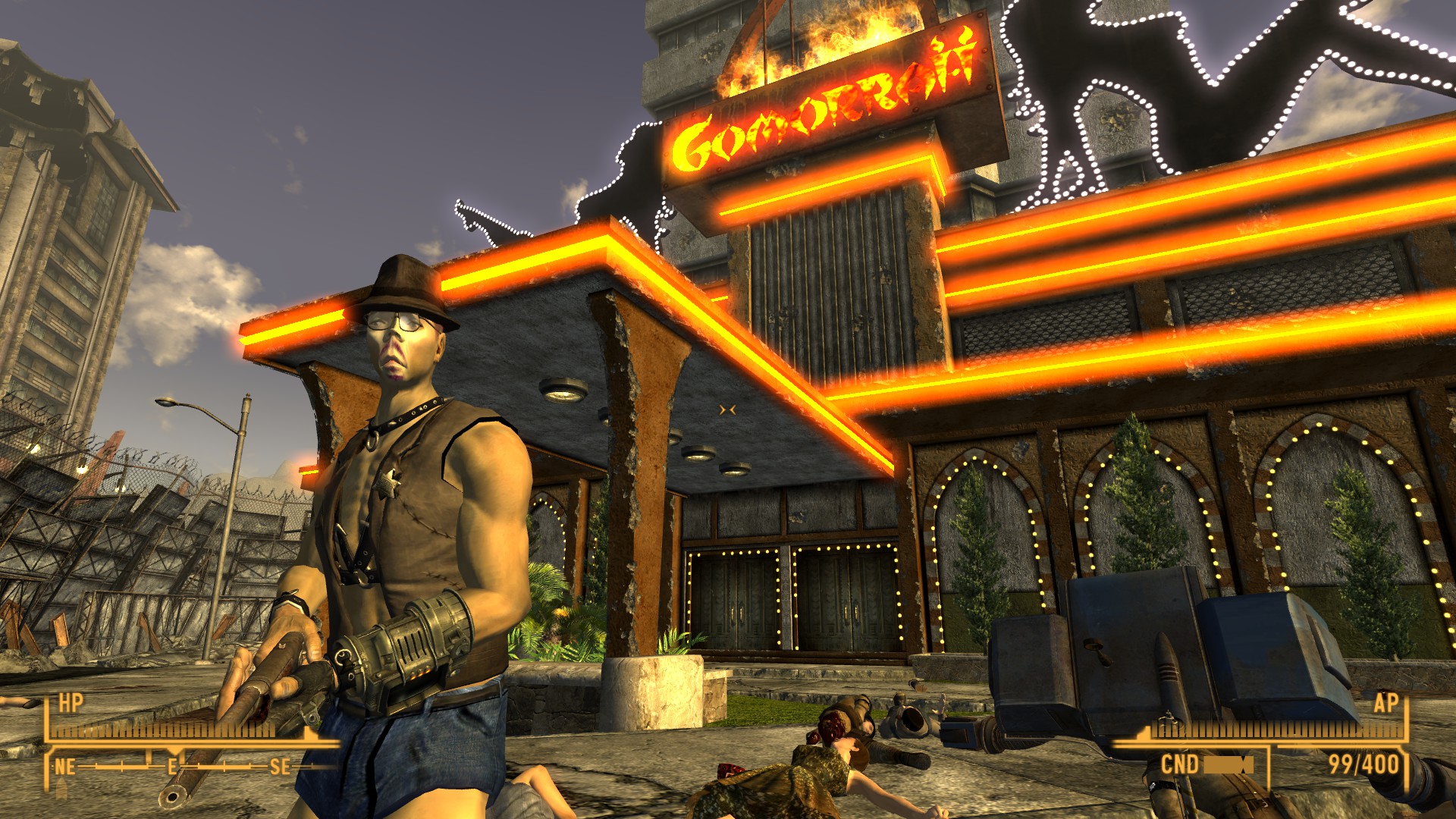 Tarrare wondering how he got up here: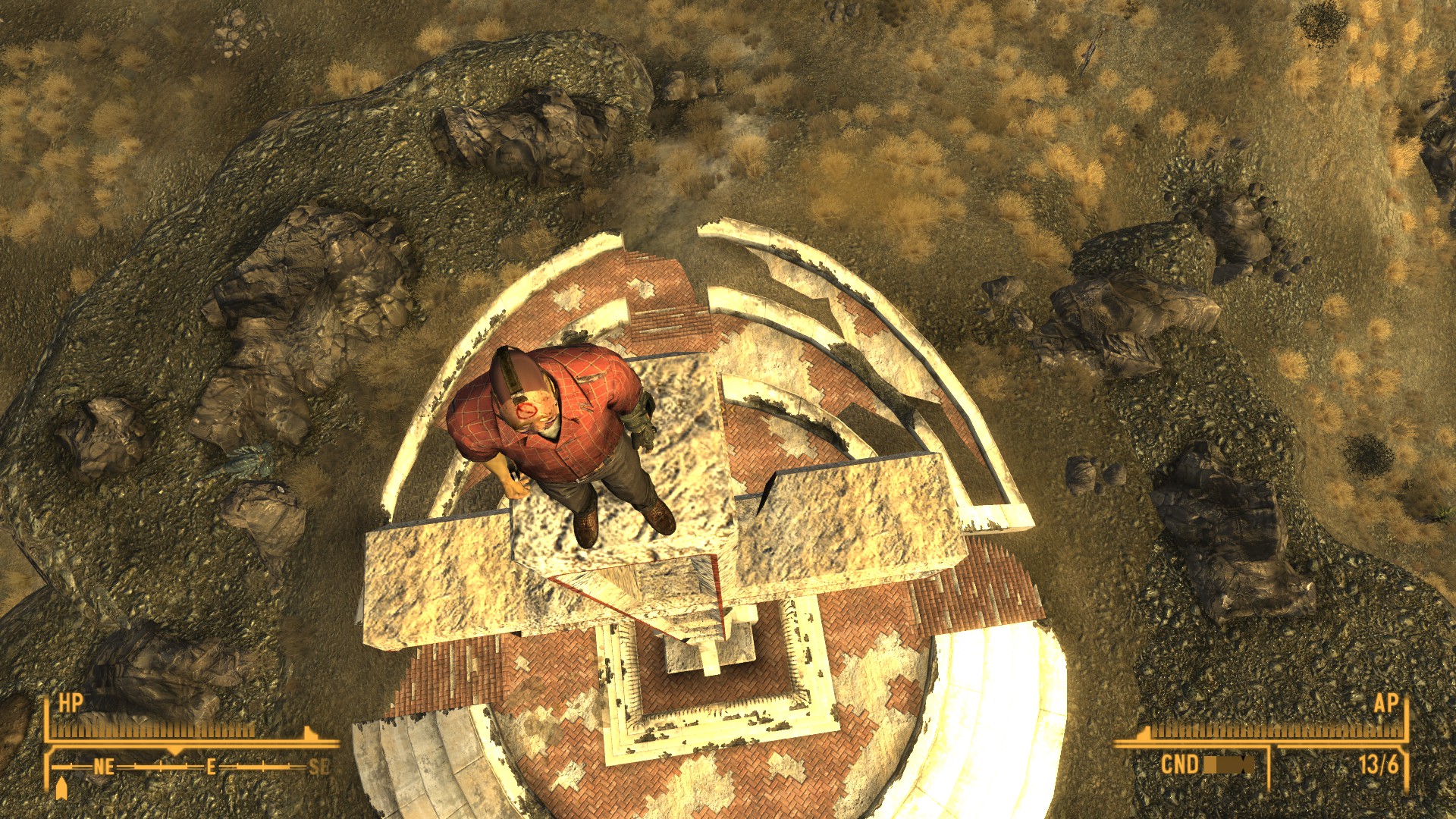 Conclusion
In conclusion, you should be able to clear Dead Wind Cavern without breaking a sweat with this build.
In all seriousness, this is not a bad build for trying out perks you missed because they would've been a waste of a perk point (there are still some fine perks in the build, eg Chem Resistant). The build could also be used for a challenge run I guess, think Tarrare the devourer of nations or a very incompetent villain, for example. Otherwise there are probably better survival builds out there (there better be). I hope you enjoyed this silly guide I made, thanks for reading.